Our Story
Amadeo grew up in Argentina in a large family with parents who insisted on making everything by hand. His neighborhood streets were lined with orange trees, and his fondest childhood memories are picking oranges for his mother to make preserves. Orange marmelade and peach were his favorites!
When Amadeo and Isabel moved to South Florida with their daughters, they couldn't find their favorite traditional foods in stores. They founded the Århus brand in 2016 as part of a mission to bring handmade preserves to the United States. With Amadeo's family recipe, they focus on quality, simplicity and great taste for the health-conscious food lover.
Amadeo wanted everyone to be able to enjoy his handcrafted preserves. Therefore, Århus offers a full line of no sugar added preserves that are perfect for diabetics and those on a low-carb diet.
Our Brand
Amadeo spent several months in Denmark during the early part of his career. The Scandanavian diet has traditionally included many types of preserves, since the cold climate limits the number of months that fresh fruits and vegetables are available. Amadeo found a taste of home in the preserves he experienced in Denmark, and ultimately named his brand after the second largest city in Denmark, Åarhus.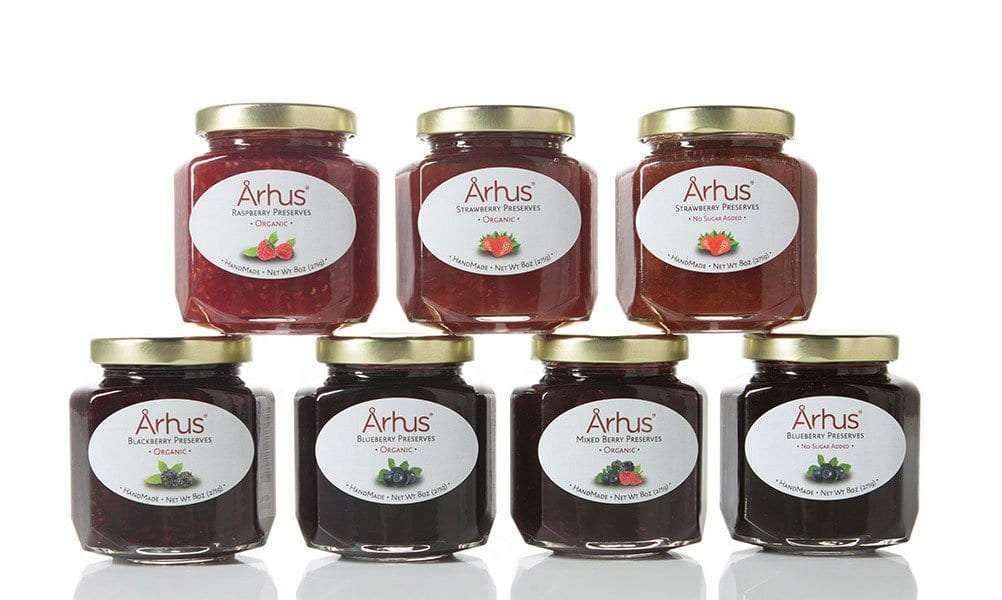 Customers reviews
From our first encounter tasting this fantastic variety of Jellies, we were hooked.
We use it for Baked fillings, as well as an accompaniment to any meat/protein.
The Spicy Wine Jelly has a permanent place in our Pantry as well as our table.
Excellent selection of jellies blended with wine offer unique flavors that we thoroughly enjoy. I've purchased several products for myself and as gifts for the last couple of year. Lately we also purchased veggie burgers from them that taste very good. Great customer service and a very nice owner.
I was first introduced to Arhus Wine Jelly in a Farmer's Market in Aventura Mall. I bought the Cabernet Sauvignon and fell in love with it.This will be my third time purchasing from Arhus and trying new flavors.I have given as gifts to my neighbors who mentioned they will be purchasing too. It is easy to order and I get them delivered fast.